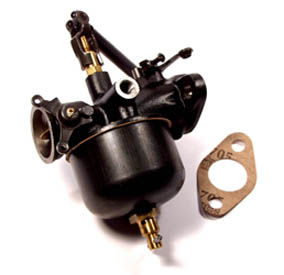 T-6200-BN • '09-'25 NH Holly Carburetor
Quantity in Basket:
None
Price:
$274.50
Shipping Weight:
2.50
This is an all new carburetor for when your old one is beyond rebuilding. No core required. Available in the early version as well as the '26-'27 swivel top version shown in the photo. Data plate with rivets is available separately - item T6200-DATA.
Note: These carburetors are prone to leak at the float valve and seat. Not a good situation but good float valve and seats are available as T6210/12 and will correct the issue. We are not the manufacturer so cannot control what comes with the carburetor but we want to make sure you know that you may face this issue.