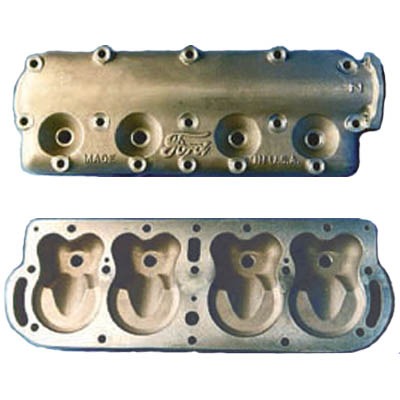 T3001-Z • High Compression Head
Quantity in Basket:
None
Price:
$379.95
Shipping Weight:
12.00
High Performance Head: The compression ratio in a Model T was deliberately low (3.5:1) due to the very low octane gas available in its day. With modern gas, the 6:1 compression ratio of this head is conservative. Its special trough-style combustion chamber swirls the fuel-air mixture, assuring complete combustion of the fuel-air and giving outstanding performance. Its heat-treated alloy construction and a larger water volume give it superior cooling. When painted, it looks like an original head, keeping the integrity of the Model T. With complete easy-to-follow instructions. No modifications required.�

Download the installation instructions
Access Technical Information on the Model T Ford Club of Tulsa web site at:
Technical Info
Then click on "Technical" and then "Model T Accessory Heads"