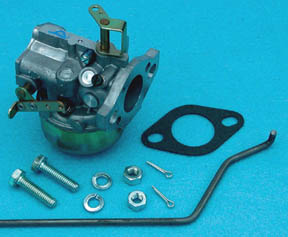 T6200-M • Modern Carburetor
Quantity in Basket:
None
Price:
$228.95
Shipping Weight:
1.30
Modern Carburetor: The increased fuel-air mixture achieved with this modern carburetor is responsible for a 20 to 30% gain in performance. The side-effect of better combustion is using less fuel (more miles per gallon). I typically get over 20 MPG on my '27 Fordor. That is nice, but the real benefit is the reduced wear on valves and cylinders (excess fuel washes away lubricating oil) which leads to longer engine life. The use of a nylon float, a neoprene float valve and an O-ring bowl gasket insure trouble-free operation. It is easily adjustable to individual engines, and once adjusted, further adjustment is not required. A new throttle rod is included. An Air Cleaner Kit (Item 034) is also available. With complete easy-to-follow instructions. No modifications required except to fuel line.

Download the carburetor installation instructions
We strongly recommend the use of a fuel filter with this carburetor as the tolerences with this carburetor are closer than on the original Ford carburetor and most Model Ts have a considerable amount of debris in their gas tanks. A fuel pump might be needed on cars that do not have the gas tank under the cowl.