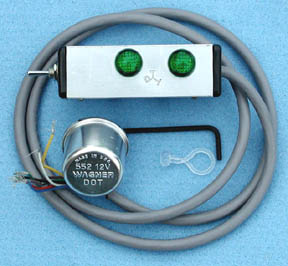 T7669-T4 • Turn Signal Switch - 4 Wire
Quantity in Basket:
None
Price:
$84.85
Shipping Weight:
0.50
Turn Signal Switch: An alternative to the large aftermarket units, it is only 3 inches long and it mounts on your spark control lever (the thing you have been trying to use as a turn signal all along). It is a safety feature that is long overdue for people who like to drive their T's. It is difficult to make a hand signal with your window rolled up, or the side curtains on. Do you know that hand signals are no longer taught in most driver education classes, leaving a lot of people who have no clue why you're hanging your arm out and waving? This turn signal is available in two models: 4-wire, not incorporating the brake lights; and 7-wire, when using your brake lights as turn signals. Complete with 12-volt flasher, easy-to-follow instructions, and wiring diagram. No modifications required.

Download the installation instructions for 4 wire turn signals
*Lights not included.