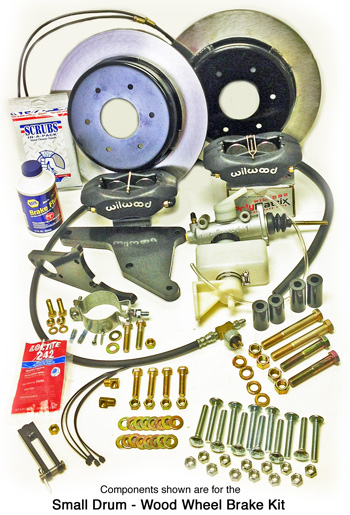 T2565-SS • SURE-STOP Disc Brakes
Quantity in Basket:
None
Price:
$1,375.00
Shipping Weight:
60.00
SURE-STOP Disc Brakes
Developed and Proven in the Rocky Mountains
by Bill Tharp -  Loveland, Colorado
   This SURE-STOP Disc Brake Kit includes all components necessary for you to install the brakes on your car.  Master cylinder, calipers for both rear wheels, brake pads, brake lines, stop light switch, fittings and bolts to install the kit.  No drilling or welding required and no destructive modifications to your car.  New brake drums, with discs attached, are furnished with the kit.
   This braking system is used in addition to the original Ford transmission brake which remains active.
   We will need you to send in the appropriate brake pedal for your car for us to attach the tab for activating these brakes. The location of this tab is critical to the operation of the system and we cannot provide disc brake systems without this procedure.
Look at these features!
•  No more rolling backward on a hill
•  Ford Emergency brake remains fully functional
•  Designed and made exclusively for a Model T, not just a collection of odd parts
•  Better braking under all conditions
•  Much better braking under wet conditions
•  Uses a RELIABLE Brake Light Switch
•  Proven Design - over 75 sets already in service
•  New one-piece spun steel bra ke drums with substantial brake disc
•  Ford transmission brake remains in service and fully functional
•  "Bolt-on" installation - No Cutting / No Drilling
Download the Installation Instructions with a link below:
Small Drum - Wood Spokes
Information About Welding the Brake Pedal Extension
How to Remove Your Brake Pedal
Compare Sure-Stop Brakes to Rocky Mountian Brakes