Denver, Colorado to Springfield, Colorado

After the difficulties we had in finding our way around Denver yesterday, we plotted a path to get us quickly out of town today. Since we were already on the east side of I-24, it was easier and we soon found ourselves surrounded by pastures and grazing land. We were surprised to find that the road kept rising on the outskirts of town as we had expected it to fall away into the plains. But, within the first hour, we had climbed around 1000 feet and were at a higher elevation than Denver. It was over rolling hills rather than mountains, though, so it was hard to realize we were going up as much as we were.

We finally connected with US Highway 287 after a 7 mile stint on I-70, and stayed on it the rest of the way to our motel tonight in Springfield, CO. We will follow US 287 most of the way home. Eventually, we started coming down again and the rolling hills turned into flatland. For more than 100 miles, we hardly saw a house or a farm and only a few communities of 4-5 houses each. We were fighting a strong crosswind as we angled our

Montana Majestic Mountain T Tour



Day 54 - Monday, August 16, 2010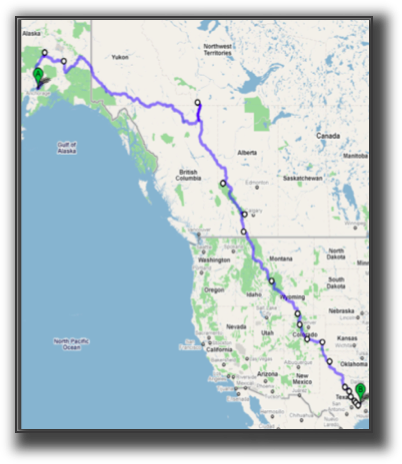 way across Colorado and then turned directly south with the wind coming at us. The flagman at a construction sight told us that the wind blows like this all the time here; that his mother was born here and that she says she always remembers there being a strong wind across these unobstructed plains. We started wondering about harnessing that wind power and, eventually, came across a field of hundreds, maybe thousands, of those giant windmills. If they had these all along the 100 miles we had just come, we could light up the entire country.
We drove exactly 250 miles today, a compromise between the 300 miles Ben wanted to go and the 200 miles I think is best. Actually, we had no real choice. The next town is 50 miles away and I would not have stayed in the last town we passed. The motel we are in tonight has not done much redecorating in its 50 years of existence (and it is still the best in town) but it is clean, has a bathroom in the room, and it has both internet and cell service. Who can ask for more?

We're getting closer to home, only 750 more miles. We expect it to be warmer tomorrow. I think I can safely pack my heavy sweatshirt.